Today we are wrapping up our second section of our Family Binder, the House and Home section.  Today's printable is very simple, so you can just print it out, stick it in your binder, then spend the rest of your time catching up if you missed anything.  Ready?
I know you've seen the shows for all the "doomsday" preparations and things like that, right?  Well, I'm not taking it quite that far, but I was a Girl Scout and know the importance of being prepared.  Today's free printable is an Emergency Checklist.
How to use it:

Now, I did say that you can just print it out and move on, but that's not entirely accurate.  My suggestion would be to print it out, then add dates on your Monthly Calendar in which you will purchase items for your emergency stash.  Designate an area of your home (basement, garage) where you can store everything in the event of a natural disaster or other emergency.
One idea would be to add a few of the non-perishable food items to your regular grocery list, and buy a few every time you grocery shop.  Add those to your stockpile.  Mark a weekend on your Monthly Calendar to gather other items off the list that you may already have scattered around your home, like flashlights, a first aid kit, and basic tools.
I researched and created this list from several sources, and tried to be as thorough as possible, but every family is different.  That's why I left room to add your own essentials.
Here is today's printable, the Emergency Checklist:
*Please note:
Thank you for your interest in the Family Binder printables. The files are no longer free, as I noted in each post that the free access would expire on 12/31/13. Please go HERE to purchase all 51 full-color printables for only $5!
Upon confirmation of payment, you will recieve all of the pages for your personal use.
Thanks so much!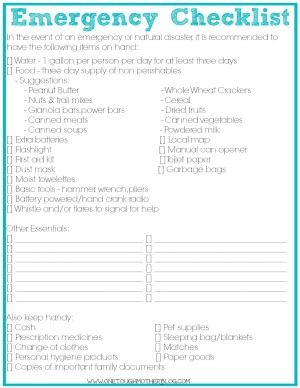 This wraps up our second section – House and Home. Tomorrow we will add our third tabbed divider and begin our next section – Financial Info.  See you there!