Hello organized people!  (Well, we're getting there, aren't we?)  Welcome to our third section of our Family Binders!  We're making progress people!
Alright, time to put another tabbed divider in your Family Binder and label this one "Financial Info".  We're going to spend the next four days here, and today we are starting off with a simple Budget Worksheet.
How to use it:

We're not getting hard core with this worksheet.  It's meant to give you an overview of your monthly cash flow for basic planning.  There is a section for income and another section for expenses.  At the bottom you can calculate what's left and budget accordingly.
Here's my setup:  My Budget Worksheet is behind the Financial Info cover sheet in the same page protector, so that when my binder lays flat, it's on the left.  On the right, I have inserted monthly tabbed dividers, and I keep our bills here after they get paid.  (I keep a year at a time, then shred them.)
We'll get a little more detailed tomorrow, but it's never a bad idea to have a snapshot of your family's finances.
Grab your own Financial Info cover sheet and Budget Worksheet:
*Please note:
Thank you for your interest in the Family Binder printables. The files are no longer free, as I noted in each post that the free access would expire on 12/31/13. Please go HERE to purchase all 51 full-color printables for only $5!
Upon confirmation of payment, you will recieve all of the pages for your personal use.
Thanks so much!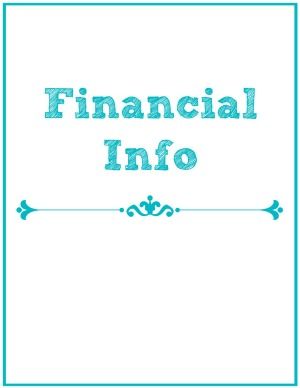 See you tomorrow!