I'm kinda starting to feel like I'm in that movie Groundhog Day, where Bill Murray relives the same day over and over again.  But not in a bad way at all!  We are making so much progress with our Family Binders, aren't we?  We are already starting our fourth section – Family/Personal Info.  Ready?
We wrapped up our Financial Info section yesterday, so today you will need to insert a new tabbed divider and label it "Family/Personal Info".  The cover sheet for this section is below.
We are going to begin this section with Important Reminders for your family members.
How to use it:
This is a document that will help you keep up with each individual family member's healthcare information, like doctor's names and contact numbers, dates of annual/semi-annual appointments, and things like that.  I only have one child, but it's difficult to keep up with her doctor, dentist, and orthodontist, as well as mine and my husbands.  And I have trouble remembering when our last visit was, since we rarely go at the same time.
With the Important Reminders sheet, you can simply fill in one section for each family member, then list all of the vital information.  Once you have the dates of the last appointments on this sheet, remember to add them to your Monthly Calendar as well.  When it gets closer to the time to make your next appointment, you will be able to add it to your Weekly Schedule and To-Do List, and you'll have the phone numbers for each doctor at your fingertips!
Grab your copy of the Important Reminders sheet below.  You can use one sheet for two family members, so print as many as you need.
*Please note:
Thank you for your interest in the Family Binder printables. The files are no longer free, as I noted in each post that the free access would expire on 12/31/13. Please go HERE to purchase all 51 full-color printables for only $5!
Upon confirmation of payment, you will recieve all of the pages for your personal use.
Thanks so much!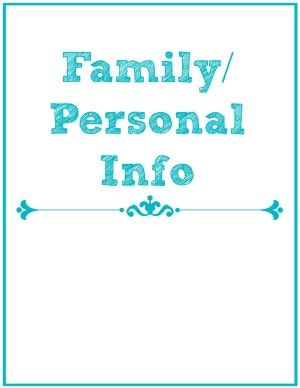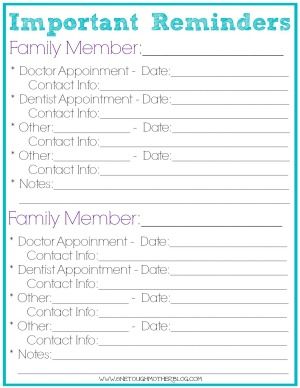 See you tomorrow!