So, were you able to get your Monthly Calendar and Table of Contents set up yesterday?  I hope so, because today we are beginning with the first section of our binders – Planning Pages!
Click the series button to see the list of posts in this series:
I have a couple things for you today.  Since we started with our Monthly Calendar yesterday, it's time to break our lives down into more manageable chunks, so today I'm giving you a Week-At-A-Glance Planning Page and a To-Do List, along with the cover of our first section.
How to use it:

Ideally, you will need 52 Week-At-A-Glance pages, but you don't necessarily have to print them all out at once.  I would recommend printing at least two months worth so you can do some future planning.
Similarly, you will need several copies of the To-Do List.
Using one Week-At-A-Glance page at a time, transfer the events from your Monthly Calendar to the corresponding weekly agenda, along with details for each event.  Let's say, for example, that next Tuesday your child has an appointment with the orthodontist.  On your Monthly Calendar, you can simply write "Kid 1 – Ortho Appt." – and maybe designate a specific color to Kid 1 and every other member of your family.
On your Week-At-A-Glance planning page, you will go to that specific Tuesday and write a more detailed description – something like this:  "2:00pm – Kid 1 – Ortho Appt with Dr. Mouth – tighten braces.  Bring insurance!"  You may also want to include the address or any other details you need to remember.  You will do this for each event on your calendar.
You may notice that I created the weekly agenda with Monday as the first day.  I did this because most people, I believe, plan their entire weekend to include Sunday.  Also, if you sit down on Sundays to plan the next week, you don't need to write what you are doing that day.  That's kind of silly, don't you think?
*Tip:  Get in the habit of sitting down each week, say, Sunday afternoons, and planning your upcoming week, as well as creating your to-do-list.

Now, grab that To-Do List and start brainstorming.  The great thing about this To-Do List is that I have broken it down in sections.  "Priorities" are things that must get done as soon as possible.  "Later" are things that are important, but maybe you have a few days or a week to complete.  "Don't Forget" are those little reminders that you will forget if you don't write them down, but they aren't life or death.  There is also a "Notes" section for things like phone numbers, grocery needs, exercise notes, etc.
Use this To-Do List as a brainstorming tool to clear your head each week, then rest at ease knowing you wrote it down, and take joy in checking off each item on your list.
The Set-up:
Planning Pages Cover Sheet: Consider printing on cardstock, then slide into a page protector behind your first divider.
Week-At-A-Glance:  I recommend inserting the current week's page into the back of the Planning Pages cover sheet, and the next week's page into a new page protector.  This way, you will be able to see two weeks at a glance.  You can place extra copies of the Week-At-A-Glance page behind the second week's page, and just swap them out each week.
To-Do List:  This is really up to you.  One suggestion is to keep the current To-Do List with you so you can not only keep up with it all week, but write down other things as they pop into your mind.  Another suggestion is to insert it in a page protector next to the current week's agenda, so you have the week's agenda on the left, and the To-Do List on the right.  Whatever works for you!
Here's a peek at my pages:
Thank you for your interest in the Family Binder printables. The files are no longer free, as I noted in each post that the free access would expire on 12/31/13. Please go HERE  to purchase all 51 full-color printables for only $5!
Upon confirmation of payment, you will recieve all of the pages for your personal use.
Thanks so much!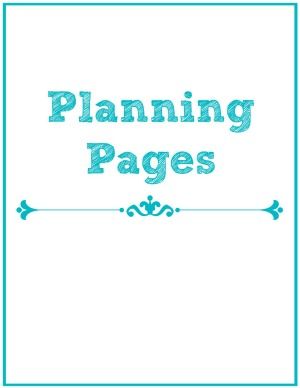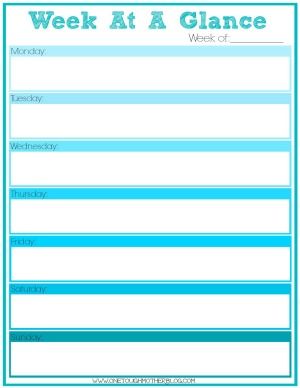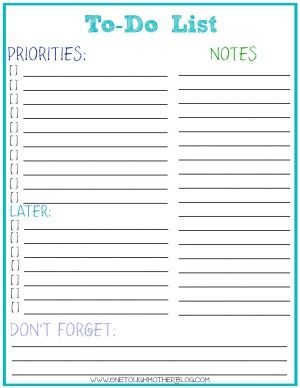 Happy Organizing!  See you tomorrow!