Friends, I am very excited about today's printable for our Family Binders.  Today I'm sharing with you a Child Info Sheet that I pray you will never have to use, but it's a very good idea to keep it on hand.
Sadly, the world we live in is not as safe as it once was, and even though we don't like to think about bad things happening, it's better to be prepared.  I created this Child Info Sheet to help you be prepared.
How to use it:

Fill in all of the information listed for each child, including nicknames, school information, contact information for any coaches for extracurricular activities, clothing sizes, allergies, etc.  Add a current photo of your child in the space provided.  (A wallet size photo from school would be perfect.)
I've even provided a space to add the child's fingerprints along the bottom.
In the event of an emergency, this is something you can hand over to the police and give them updated information on your child.
It's a good idea to update the Child Info Sheet at least once a year.  At the beginning of each new school year is a great time to update this sheet.  However, if your child goes through a growth spurt like mine did over the summer, in which she literally grew 3″ and her face changed from a little kid to a young woman, you may need to update it more frequently.  (I'm totally not prepared for puberty!)
Grab yours below and get it filled out.
*Please note:
Thank you for your interest in the Family Binder printables. The files are no longer free, as I noted in each post that the free access would expire on 12/31/13. Please go HERE to purchase all 51 full-color printables for only $5!
Upon confirmation of payment, you will recieve all of the pages for your personal use.
Thanks so much!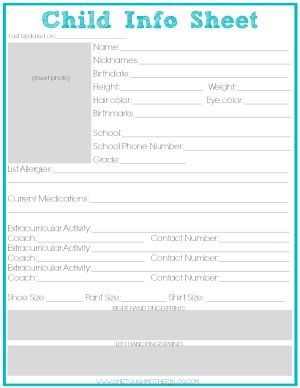 See you tomorrow!