Hello binder builders!  Today is the final day of our Family Binders, unless you want blog planning pages included, which I'll share over the last two days of the month.  Ready for the last page of our Special Occasion section?
Today's printable is for you and your honey – Date Night Ideas.
How to use it:

On those rare occasions when my husband and I get an actual date night (not a "Hey let's run to Home Depot and pick up dinner while we're out" kind of date, but a real date) we usually have to rack our brains to think of something different to do.  We like to try great restaurants, but we have a habit of noticing a new place to try and forgetting about it when it's time to go out.
So, welcome the Date Night Ideas page!  Write down the list of restaurants you've been dying to try, fun activities you like to do together (or new ones you'd like to try), movies to watch if you want a stay-at-home kind of date night, or outdoor activities for an adventurous date.  There is also a "Notes" section at the bottom.
Have fun planning your next date!  I've also included a little bonus today, at the request of one of my awesome readers – a blank Notes page that can be used in conjunction with any of the planning pages for extra planning space! Grab your printables below:
*Please note:
Thank you for your interest in the Family Binder printables. The files are no longer free, as I noted in each post that the free access would expire on 12/31/13. Please go HERE to purchase all 51 full-color printables for only $5!
Upon confirmation of payment, you will recieve all of the pages for your personal use.
Thanks so much!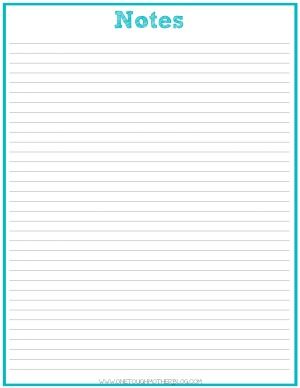 So there you have it – a complete Family Binder.  I truly hope you have enjoyed this series and the printables are working for you and your family.  Thanks so much for hanging out with me throughout the month!
If you are in need of a few blog planning pages, I'll share those tomorrow and Thursday.  See you then!