Hey friends!  Today we are going to wrap up our Planning Pages section of our Family Binders.  Remember, at any time you need to see all of the posts in this series, just click the button below, okay?
Alrighty, today I'm giving you a two-page printable that will help you keep up with things like birthdays, anniversaries, school holidays, etc.  The Dates to Remember planning pages are great for annual recurring events and special occasions, but I also like to use them to remind me of seasonal festivals that my family likes to attend each year, or to get me ready to prepare a big event.
How to use it:

As I mentioned, you can use these to write down all of those birthdays and anniversaries that you need to remember from year to year.  However, consider this a planning reminder, too.
For example, my family spends our Thanksgiving holidays in the mountains of North Carolina.  Usually in late July or early August, we begin looking for a rental cabin.  On my Important Dates printable for August, I wrote, "Search Thanksgiving cabins", to remind myself next year when I need to start planning.
When we get to some future printables, you will come back to the Dates to Remember page and add some items, but for now, just add what you know of, then file it behind your Weekly Chore Chart or Week At A Glance pages.
*Quick Tip:  If you have any printed schedules, like the school calendar, sports schedules, etc., simply add them to their own page protector and insert them into your Family Binder behind the Dates to Remember pages.  Also, don't forget to add the dates from those pages to your Monthly Calendar!
Here's a peek at my pages:
Here are your printables for today.
*Please note:
Thank you for your interest in the Family Binder printables. The files are no longer free, as I noted in each post that the free access would expire on 12/31/13. Please go HERE to purchase all 51 full-color printables for only $5!
Upon confirmation of payment, you will recieve all of the pages for your personal use.
Thanks so much!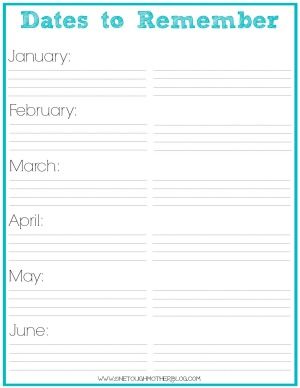 See you tomorrow!