Yesterday was packed full of meal planning and grocery listing, but if you're anything like me, you don't cook every single night.  That's exactly why I created this next printable – Restaurant Guide!
How to use it:

I think we all have our favorite restaurants, whether it's a quick place you stop on the way home from work, or where you go on date night and get "the usual".  That's what this planning page is for.
Simply fill in each section with your favorite restaurants and their phone numbers.  This might be something you want to keep handy in your car as well, in case you need to call in a pizza order on your way home one night soon.
I also like to keep take-out menus in the page protector behind my Restaurant Guide.
Here's a peek at my page:
*Please note:
Thank you for your interest in the Family Binder printables. The files are no longer free, as I noted in each post that the free access would expire on 12/31/13. Please go HERE to purchase all 51 full-color printables for only $5!
Upon confirmation of payment, you will recieve all of the pages for your personal use.
Thanks so much!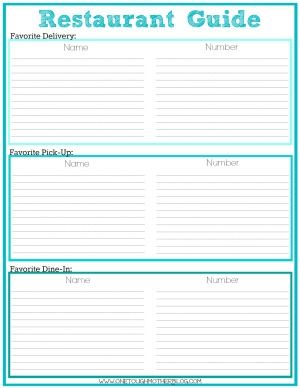 See you tomorrow!