Can you believe we are wrapping up the first week in this series?  We've accomplished a lot in the first week, right?  Are you feeling accomplished?  I really hope so.  Let's keep the momentum going with today's printables for our Family Binder.
(Missed anything?  Click
here
to see the whole series!  Make sure you grab the ones from the weekend – Grocery List, Meal Plan, and Restaurant Guide.)
The printable I have for you today is more of a guide, rather than a document for you to fill out.  I have put together a Home Maintenance Schedule for you.
How to use it:

After printing off the Home Maintenance Schedule today, grab your monthly calendar and begin adding some of these items to your calendar.
For example, since we are currently enjoying the Fall Season, maybe add one or two of the Fall to-do's onto each weekend of your monthly calendar until you have them all completed.  Also, if you haven't completed some of the monthly, quarterly, or annual tasks, add those to your monthly calendar as well.
I've also left room for you to add other items that you feel need to be completed to maintain your home.
*Please note:
Thank you for your interest in the Family Binder printables. The files are no longer free, as I noted in each post that the free access would expire on 12/31/13. Please go
HERE
to purchase all 51 full-color printables for only $5!
Upon confirmation of payment, you will recieve all of the pages for your personal use.
Thanks so much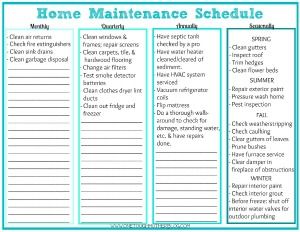 See you tomorrow!