We continue to add to our House and Home section of our Family Binder's today with a not-so-fun but necessary checklist for every home – Master Cleaning Schedule.
I was tempted to only put one item on this list: "Hire a maid."  But then I realized that I can't afford a maid, and a lot of you probably can't either, so I had to add realistic things to the list!
While it may not be fun to clean, at least you can have some help in knowing what to clean, and how often, with today's Master Cleaning Schedule printable.
How to use it:

This can go hand-in-hand with your Weekly Chore Chart that I gave you on Day 3.  Simply add the chores to the Chore Chart and assign them to a family member.
You may want to go one step further and add the Monthly, Quarterly, and Annual items to your Master Monthly Calendar so you don't forget about them when the time comes to do a deep clean.
I have also left enough room in each section for you to add your own items, as no list I make can be completely comprehensive.
*Please note:
Thank you for your interest in the Family Binder printables. The files are no longer free, as I noted in each post that the free access would expire on 12/31/13. Please go HERE to purchase all 51 full-color printables for only $5!
Upon confirmation of payment, you will recieve all of the pages for your personal use.
Thanks so much!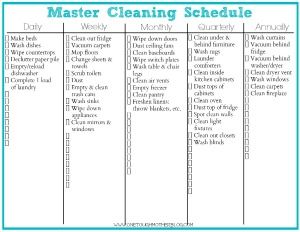 See you tomorrow!