Hello organized people!  (Are you starting to feel like you're getting it all together yet?)  We have a few more documents for our House and Home section of our Family Binders, but if you have missed anything so far, just click the button below to see the list of posts.
Ready for today?  This one is really helpful to me and my family, and I actually printed two of these – one for the House and Home section, and one for the Blog Planning section – Logins and Passwords.
How to use it:

I don't know about you, but there are gobs and gobs of websites that we access on a daily basis.  Some passwords require letters and numbers, some are just letters, others need special characters, too. It's hard enough to memorize our phone numbers and social security numbers, right?
Use the Logins & Passwords sheet to list every single website (write the URL, not just the name of the site), and the login and password for the site.  Think about online banking, Amazon, Etsy, Facebook, Pinterest, online magazines or newspapers, etc.  List everything.
If you have multiple members of the family who all have their own logins for various email accounts and the like, consider using one sheet per family member.  (Hello!  Teenagers!)
*A quick note:  As morbid as it may sound, if something were to happen to you, and you don't have this information written down, your loved ones will have to do a lot more work to take care of the little pieces of your life.  Facebook isn't so important, but your online banking is, so after you fill this out, keep it current.
*Please note:
Thank you for your interest in the Family Binder printables. The files are no longer free, as I noted in each post that the free access would expire on 12/31/13. Please go HERE to purchase all 51 full-color printables for only $5!
Upon confirmation of payment, you will recieve all of the pages for your personal use.
Thanks so much!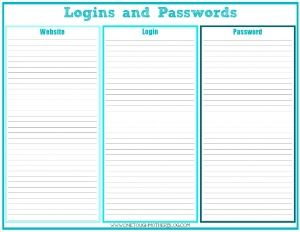 See you tomorrow!