Happy Friday!  Have you heard about the latest mail order company, Stitch Fix?  My girls Amy, Kara, and I decided to try it out, and today's Fashion Friday is all about our first "Fixes".  Ready to see what it's all about?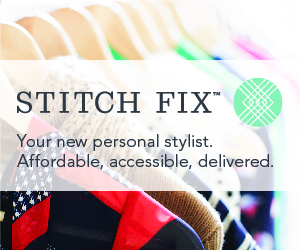 What Is Stitch Fix?  Stitch Fix is a service for fashionistas (or even wanna-be fashionistas). You go online, create a profile, and answer some questions about your style.  You can also link up a Pinterest board that shows examples of the style you like.  A stylist puts together five items in your size and style then mails them to you.  You keep what you want and send the rest back!
What Is The Cost?  When you schedule your first "fix", you are charged a $20 Styling Fee that you can apply towards your first purchase.  According to their site, each item averages around $65.  You get a 25% discount, though, if you keep all five items in your box.
I'll be totally honest with you, folks.  I'm cheap.  I think I have great style, but I don't spend a lot of money accomplishing my look.  So I was quite skeptical about Stitch Fix, because $65 for one item seems quite high, when I know I can usually buy at least three items for that when I shop.
So, I ordered my "fix" and when it arrived, the packaging drew me in.  (I'm a sucker for presentation.  It makes a huge difference, don't you think?)
All of my items came stacked and wrapped neatly in the box.  Ok, I like it so far.
This letter was on top.  Inside the envelope was a detailed invoice showing the cost for each item in my box, and what the total would be if I keep all five items.
Time to open the box.
Item #1:  Navy blue lightweight top
This top is a lightweight sheer material with little button accents on the sleeves and a slight v-neck.
Verdict:  Not keeping it.
Reasons:  I have gobs of navy blue, the top is really lightweight and we're getting into the cooler months, and it's $68.  Way too expensive.
Item #2:  Sleeveless wrap top
The color is very pretty but the cut of this top is all wrong for me.  I have a long torso, and the way this top sits on me makes me look like I have a big belly sitting on top of my pants.  Not attractive.
Verdict:  Definitely not keeping it.
Reason:  Hideous on me, and it's sleeveless (hello?!  Winter is coming!), and it's $58.  Again, too expensive. And just all wrong for me.
Item #3: Hooded Sweatshirt Jacket
This big sweatshirt jacket has a hood in the back and ties around the waist.  It's about hip length and lays nicely in the front.
Verdict:  Not keeping it.
Reason:  I can't justify spending $68 on a sweatshirt.  Forgive me Stitch Fix people, but $68 for a sweatshirt?  I don't care who made it.  It's still just a sweatshirt.
Item #4:  Striped 3/4-sleeve top
The colors of teal, coral, grey and black are a really pretty combination for fall.  The sleeves are 3/4 length with button accents.
Verdict:  We have a winner!!!  Keeping it!
Reason:  It fits me perfectly, the colors are fabulous for my hair and skin tone, and it's unique and comfortable enough that I can justify spending $48, even thought that's still too much compared to what I normally buy.
I also got a necklace that I decided to send back:
It's pretty, but not pretty enough to (you guessed it) spend $36 on.  I have a Charming Charlie's near my office and the most I ever spend on costume jewelry is maybe $20.
So there's my "fix".  Overall, I wasn't excited about it, and probably won't order another one.  I feel like I can do better on my own, especially for the cost.  However, I think the concept for Stitch Fix is fabulous!  I love the idea of having a stylist hand-select items for me and send them to my door, alleviating the hassle of fighting traffic, finding a parking place, dealing with other shoppers, standing in line, trying on clothes in a public fitting room, and fighting traffic again to go home.
I get it.  I do.  I understand the reason for the service.  I'm just cheap, ladies and gents.  I don't like to spend money.  (Yes, my husband loves me for it.)  But I still look good on a budget!
I do love my striped shirt, though, see:  (Excuse the horrible picture.  It rained all day and my hair was a train wreck, but the shirt is pretty!)
Now go check out Amy and
Kara
's Stitch Fix reviews and see what was in their boxes!  I know for a fact that Amy kept more than one of her items and they look fabulous on her!