I am so madly in love with this man…for more reasons than I have words to describe.  On June 29, 2011 – exactly 3 months ago today, my sweet husband Mark was in a
terrible motorcycle accident
, breaking 8 ribs and his left wrist…the same left wrist that now cradles his guitar as he plays.
This is such a HUGE blessing.  This man of mine is such an incredibly talented guitar player and he lives and breathes music.  It's been a long 3 months without that guitar in his arms.  But on this day, Thursday, September 29th, all is right in his little world.  He can play again!
I can't even begin to tell you how thrilled I was to walk in the door when I got home from work to be greeted with the beautiful music coming from his guitar room…so amazing, this man of mine.  (It's OK to be jealous – he's cute AND talented!  I know, I'm a lucky woman.)  *wink*
Linking up to this fabulous blog (and I do mean FABULOUS!)
Simple As That
Rebecca is
so
  fabulous, in fact, that she is giving away a TON of cool stuff today on her blog!  She's celebrating 52 weeks of The Simple Things – check it out!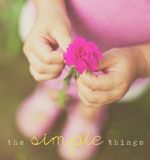 Join the Sweet Tea Community!
Get the most recent blog posts, exclusive digital downloads, and access to a private community!