We spent our Saturday in the yard – pressure-washing the house, trimming bushes that were way out of control, adding mulch…
And in the process of all this, a little baby mockingbird somehow fell out of it's nest and sat patiently on our driveway until my mom found it.  🙂
Fortunately, mom scooped up the baby in her gloved hands, so her human scent didn't get on the poor little thing.  The only thing we could find to put it in was Marley's bicycle helmet.  We sat it under a tree hoping Mama Bird would come along…and sure enough, she found her baby and brought her some food!
I continued my yard work and eventually, I found an old abandoned bird's nest in one of our bushes.  (Thank you, God!)  This was perfect!  Using a bit of cardboard for added strength, we placed the nest in a tree, and, just as she did last time, Mama Bird found her baby again.
I've been checking on the little one periodically and it is doing just fine!  Mama keeps bringing food, the nest is holding up, and all is good in it's little world.  🙂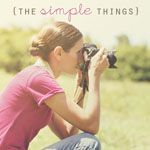 Join the Sweet Tea Community!
Get the most recent blog posts, exclusive digital downloads, and access to a private community!