I have wanted to do a fashion feature on the blog for a long time, but you know what?  I am not a fan of self-portraits…  So, even though I love my clothes, I do not love getting in front of the camera.  However, as part of my 2013 goal of Living My Life, I've decided to embrace the camera and share more selfies with a new feature here on One Tough Mother called What I Wore Wednesday!
I love that the weather is warming up and I can pull out my favorite clothes, and I'll be sharing some of my favorite outfits with you each Wednesday!  (A special thanks to my awesome daughter for snapping these shots!)
Maxi skirts are my absolute favorite wardrobe staple in the Spring and Summer.  I bought this simple grey maxi last year at TJ Maxx.  I love the length (I'm 5'8″ so long is good!) and the soft cotton.  Oh, and my cute accessory?  That's sweet Daisy.  😉
Tank tops are my best friend.  I wear them year-round – under cardigans when it's cold outside, and layered on their own in the warmer months.  The Cynthia Rowley brand sold at Marshall's and TJ Maxx are by far the best I've ever owned.  They run between $8-$15, are super soft, super durable, and come in so many colors.
Notice that necklace?  Well, that would be my Origami Owl Living Locket!  I wear it almost every single day.
Here's my story:  A camera (for obvious reasons), a dog bone (for my sweet furbabies), a cross (for my faith), and a little girl with the February birthstone (for my awesome daughter).  All of that sits beautifully inside a large locket, and for a little bling, I added an owl dangle!
Fabulous, right?  Well, I have great news for you!
I'm so excited to bring this fabulousness to you today!!  Have you heard of Origami Owl?  It's a gorgeous line of jewelry that is personalized for you!  Each Living Locket is built to your specifications, filled with all the little charms that represent your life and ultimately tell your story.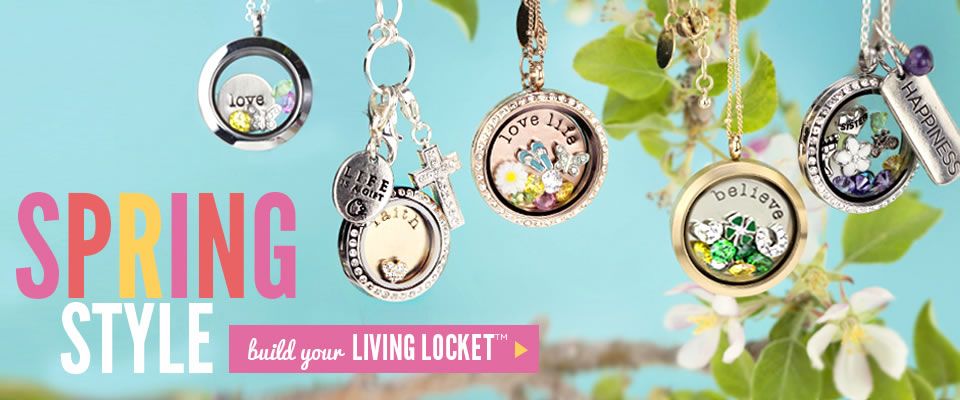 I am thrilled to be partnering up with my friend Melissa Garner, my
Origami Owl Designer
, to bring you an online O2 Party + Giveaway!
Not familiar with Origami Owl?  That's OK!  You're going to fall in love!  Let me show you how this works:
First, you browse through all the little charms that will end up inside of your living locket.  There are endless options.  Choose charms that represent your family, your hobbies, your pets, whatever!
Second, choose your locket.  Each Living Locket comes in 3 sizes and various finishes ranging from silver with crystals to matte black to rose gold or gold.
– The Mini locket is about the size of a dime and holds 1-2 charms.
– The Medium locket is about the size of a nickel and holds 4-7 charms.
– The Large locket is about the size of a quarter and holds 7-12 charms.
Third, choose your chain.  Do you like long necklaces that wear well with tunics and flowy sundresses? Or do you prefer shorter chains that look gorgeous layered with a t-shirt or v-neck top?  There are several options to choose from!
Finally, add your flair!  You can choose plates and dangles to accentuate your Living Locket and truly make it your own.  The options are endless!  Here is some inspiration to get you started:
So simple, yet so beautiful!  I'm hosting an online Origami Owl party, so you can order one for yourself, your mom or mother-in-law (Mother's Day is only 2 1/2 weeks away!!), a soon-to-be grad, a bride-to-be…you name it.  The gift possibilities, just like the Living Locket combinations, are endless!
And, because Melissa is so awesome, she is offering a FREE Living Locket of your choice valued up to $24!  The winner of this giveaway will be able to choose any of the 3 sizes of lockets in a variety of styles.  All you'll have to do is add your charms and chain!  Suh-weet!!
Head over to Melissa's Origami Owl page to place your order!  Upon checkout, be sure to select "One Tough Mother" when asked for "Jewelry Bar Information".
And be sure to enter the giveaway below (open to US residents only)!  Good luck!
{This giveaway has ended}
Linking up here for What I Wore Wednesday:
The Pleated Poppy