I am very honored to have a special guest today joining us on our journey for Week 5 of A Girl's Guide to Self-Confidence.  I discovered Hillary on Pinterest, actually, through
this pin
and immediately reached out to her to be a part of our series.  I'm thrilled that she said yes!Hillary is a Southern California mom to a daughter in preschool and a toddler son. Her husband is a Ph.D student and their lives are lived according to the quarter schedule. Because they make such adorable offspring Hillary plans to have another sometime in the next few years. She blogs at
TheHillJean.com
where she finds the fascinating in the mundane. She always tries to find the funny as well.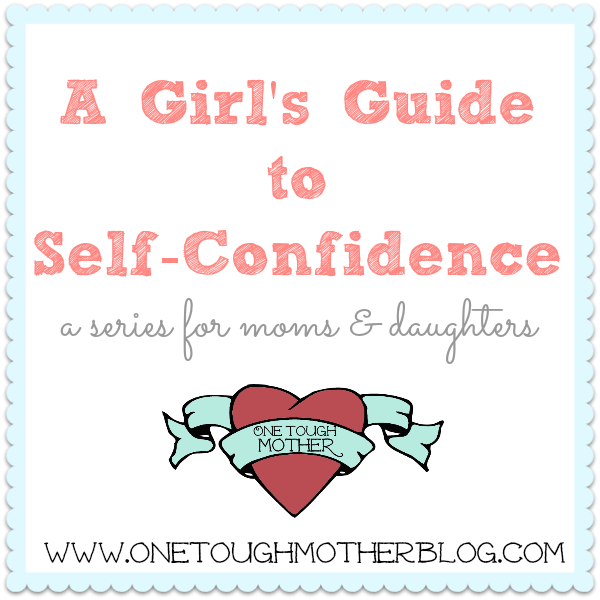 Right now, the internet, the book stores, the magazine racks, the television, the gym, and the billboards are crawling with messages about how to get "Bathing Suit Ready". Girls and women of all ages are having a collective freakout. Temperatures rise, so the pounds need to fall.
Ever since I was in sixth grade I've hated this time of year. I despise this "season" where we aren't good enough and have to follow some elaborate ritual to "ready" our bodies for the public eye. I long for the cozy, comfortable months of winter. The time where friends pass around fudge instead of new diet techniques.
Since Christmas, I've probably put on a good ten pounds.
Ten. Pounds.
Have I agonized over that weight?
You can bet your sweet cinnamon roll I have.
Have I dieted?
Well…yes and no. I've implemented many healthy habits since coming clean with my
vicodin addiction
. I had a total overhaul on what was going into my body. But sugar? Well, I have a hard time letting go of that sweet stuff. I'm being active, exercising most days of the week, and trying to eat as clean as I can.
The ten pounds aren't really moving. BUT IT'S BATHING SUIT SEASON!
How do I talk about myself? How do I talk about my body? How do I communicate my fear of bathing suit season to my four year old daughter?
Ick.
Those questions haunt and torment me. Bathing suit season is here, ready or not. My daughter is here–she is absorbing everything like a sponge, ready or not.
If I'm being honest, I'll say I'm not ready for either. I don't have it together. I don't have the confident answers to handle both society and my little one. But I do have a fallout plan.
Here are some ways I'm dealing with both bathing suit season, and a listening daughter:
1.) I'm not going to hide. I might not like what I see in the mirror. I might not be bathing-suit ready. However, I have to participate in summer. I'm not going to miss out on memories with my kids in the pool and at the beach just because I'm not "ready."
This is the part where I suck it up. And in, haha.
2.) I'm not going to talk down about myself in front of her. I shouldn't talk down about myself in front of ANYONE, but if I'm honest, I let it slip around my mom and my husband. I whine to them. But I'll never whine to her.
3.) I'm not going to be immodest. Let's be frank, here: the whole bathing suit thing is just weird. While we cover our bras and panties year round it's somehow ok to bare it all in a bikini. It's weird, right? I can't wear my bra on the beach, but the triangle top is perfectly fine.
I'm a lot more confident in my swimsuit when it covers up the important parts. Now is definitely not the time for me to "let it all hang out." I found a great swimsuit that keeps my errant thighs and saggy boobs in check. Turns out, Spanx has a line of swimwear. Praise the Lord.
While I'm covering my flub, I'm also showing my daughter another version of swimwear. Living in SoCal, she'll see everything under the sun. Literally. I'd like to demonstrate an option that doesn't involve baring it all for the world to see.
So, I've got my issues. Don't we all? I'm sure one day, my beautiful girl will have issues, too. But I'm doing the best I can to deal with my issues quietly. I don't want my insecurities to be hers. I want her to feel confident, beautiful, and not worry about being "ready" for a stupid season.
You know that saying, "Fake it til you make it?"
Yah, that's me right now. Cause I don't have it all together, yet. I haven't conquered my own fears. But for her sake, I'll pretend I have.
Thank you so much, Kirsten, for having me on your lovely site! I appreciate the safety and luxury of being honest about hard things. We're all in this together, right?


Thank you Hillary!  
I hope you will all pop over to Hillary's blog and let her know how awesome she is!  You'll laugh, you'll cry, then you'll laugh some more. She's fabulous!
Now it's your turn:
– What activities might you be missing out on because you are self-conscious about your looks?
– How are the journals coming along?  Any questions so far about our series?