If you stopped by the blog on Monday, you might have noticed that I had a friend fill in for me due to a crazy flu bug that knocked me out for about a week.  It really stinks when your version of therapy is spending hours in your craft room but you're too sick to do even that!
Fortunately, I have another sweet friend who is helping me out today with another fun tutorial!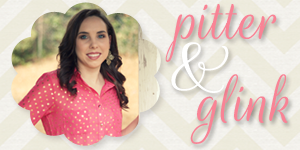 Today I am very happy to have Bethany visiting from Pitter & Glink.  She's going to show you how to create a beautiful Stenciled Burlap Art project!  (This bit of loveliness is near and dear to my heart because Bethany created it, then surprised me by sending it to me!  Yay!)
—————————————————–
Hey, y'all!  Today I have a really simple piece of art to share with you.
I began my project with burlap, a flat 5×7 canvas, and Mod Podge.
I brushed the canvas with a layer of Mod Podge, adhered a burlap rectangle to the canvas, and covered the top of the burlap with Mod Podge.  After the Mod Podge dried, I stenciled the burlap.
I used my Silhouette to create a card stock stencil of the word I wanted on my art.  I loaded a stencil brush with black paint and blotted much of the paint off before stenciling to ensure my letters were crisp.
The edge of my burlap was a bit rough, so I cut decorative branches and hot glued them to the canvas to create a frame for my art.  Y'all know I don't leave anything plain, so I made some rolled fabric roses and gathered ribbon flowers to add to the art.
I used hot glue to adhere the flowers to the corner of my art.  The flowers were the finishing touch.
This project was very simple, and I love how it turned out.
—————————————————–
Be sure to stop by and say "hello" to Bethany at her blog, Pitter & Glink.  You can also find her on Facebook, Twitter, and Pinterest!