Throughout our kitchen remodel, I was faced with multiple design choices, and I stressed over every single one. As excited as I was for this remodel, I wanted everything to be just right, and in all the chaos and demo, it was difficult to visualize all the pieces put together.
When it came to the new kitchen lighting, I worked with LampsPlus because they have GOBS of beautiful and budget-friendly lighting choices. While narrowing down my choices, I weighed several factors, so let me help you choose new kitchen lighting without the headache.
LampsPlus provided me with new lighting for my kitchen in exchange for a blog post. All opinions are my own. Images used with permission.
Our kitchen remodel combines both rustic touches and contemporary touches, so lighting was a bit tricky, but ultimately I found "the one", and I'm in love!
HOW TO CHOOSE NEW KITCHEN LIGHTING
When shopping for new lighting, it's smart to take your time, spend some time on Pinterest and in lighting and hardware stores, until you get a feel for the styles you like the most. When you get ready to purchase, here are some factors to consider:
#1 – CONSIDER YOUR STYLE
Obviously, you need to like the lighting you put in your kitchen. That's why it's important to shop around. But try not to limit yourself to one style because what you see in the store or online might not exactly work with your kitchen.
[one-half-first]
[/one-half-first]
[one-half]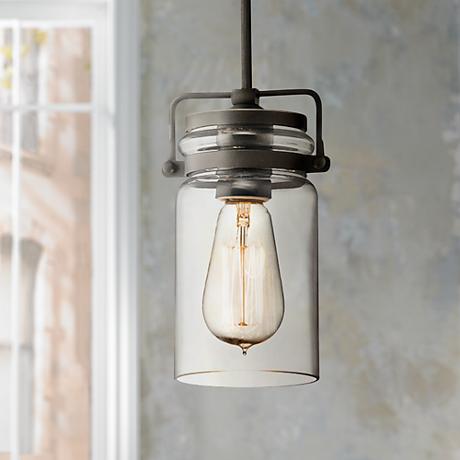 [/one-half]
 #2 – CONSIDER YOUR NEEDS
You have to know what type of lighting you'll need before you purchase. For example, does your kitchen have tall ceilings that might do well with a chandelier? Or would can lights work better for you? If you have a bar or an island, you might want to look into pendant lights as well.
Your kitchen will most likely require more than one type of lighting so plan that out as you shop. Pendant lighting and chandeliers are more for aesthetics, while can lights and track lighting, for example, provide brighter light needed for cooking.
[one-half-first]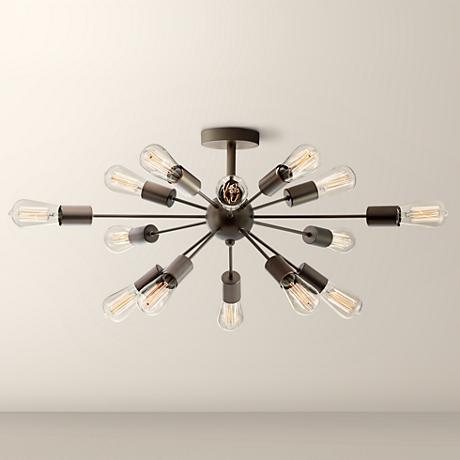 [/one-half-first]
[one-half]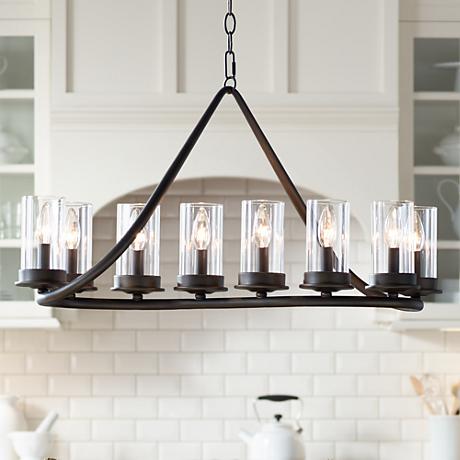 [/one-half]
#3 – CONSIDER YOUR BUDGET
With our kitchen remodel, the majority of our budget went towards new granite countertops and opening up the floor plan. Keep in mind that quality kitchen lighting does cost money, but it doesn't have to cost a fortune!
[one-half-first]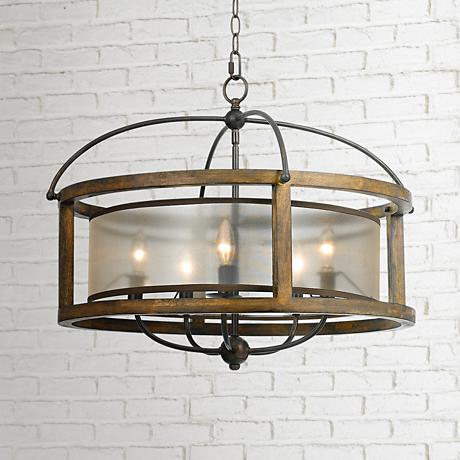 [/one-half-first]
[one-half]
[/one-half]
#4 – CONSIDER YOUR COLORS & FINISHES
I'm not a big fan of matchy-matchy, but I do want things in my kitchen to compliment one another. When I was choosing the lighting for my kitchen remodel, one of things that ultimately helped me make my final decision was my hardware.
I know that may sound strange, but hear me out. Our kitchen cabinets were painted navy blue and white. Our new granite countertops are called "Alaska White", and are a very light grey tone. Our new faucet is a brushed chrome, as is the new hardware for the drawers and cabinets.
I wanted lighting that would compliment, not clash, with all of those colors & finishes, which ultimately led me to narrow my choices down to something in the chrome/brushed steel department. Complimentary, without being too matchy-matchy.
[one-half-first]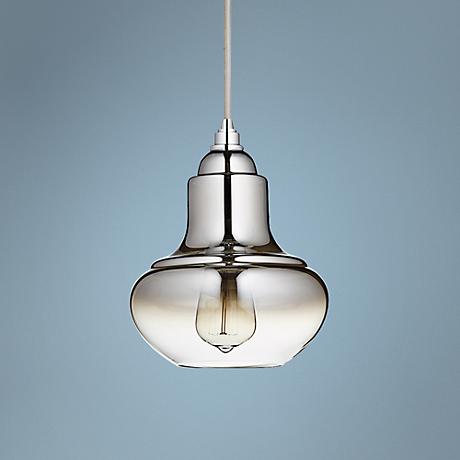 [/one-half-first]
[one-half]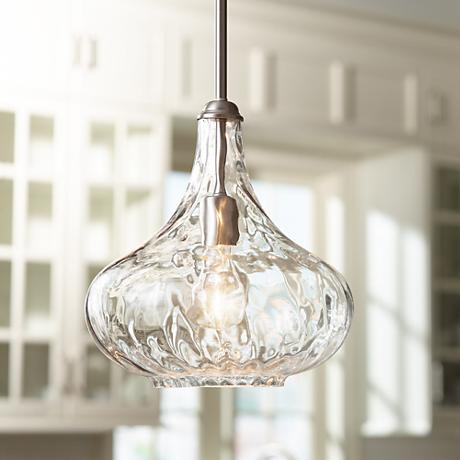 [/one-half]
#5 – CONSIDER THE SIZE OF YOUR KITCHEN
Finally, you have to keep the size of your kitchen in mind. If you have a huge kitchen that is really open, you can purchase larger light fixtures or multiple pendants.
Our kitchen, despite increasing it's overall footprint in the remodel, is still on the smaller side. I knew that I wanted the view from the kitchen to the family room to feel open, and I also knew I would have to opt for mini pendants due to the limited size, so I chose a pendant with a clear glass globe.
I also took into consideration that we have 8′ ceilings, so any light fixture that hung down from our ceiling would make it feel smaller. We opted for simple can lights in the main part of our kitchen. They provide great lighting while I'm cooking, and they recess into the ceiling so they don't take up any visual space.
OUR KITCHEN LIGHTING: BEFORE & AFTER
When we bought our house, the kitchen was the eyesore. I hated it the moment I set foot in that room, and I've hated it everyday since moving in over four years ago. I was ecstatic when we could finally give it a much-needed facelift, and let me tell you, new lighting makes a huge difference in the overall look of the finished space!
KITCHEN LIGHTING BEFORE:
Isn't that terrible? I had one big ol' florescent light in the middle of the kitchen, like something you see in an office building. And I had this weird flush-mount thing over the sink. It was terrible. I bet a man picked those out. *wink*
KITCHEN LIGHTING AFTER:
Oh friend! Glorious lighting, hallelujah and AMEN! It's so beautiful and bright and happy and all things kitchen lighting should be!!!
We decided to go with can lights in the main part of the kitchen. There are five of them recessed into the ceiling. They're small but mighty, putting off excellent, bright white light. They are 4″ White Baffle 10 Watt Dimmable LED Retrofit Trim in White, specifically. I love that they are dimmable, too. Mark and I are probably going to put in a dimmer switch at some point.
We chose 2 mini pendants and I am absolutely in LOVE with them! They are the Vesper Glass and Chrome Mini Pendant Light. They are glass, which keeps things nice & open visually. They also have this tiny halogen lightbulb that's supposed to last a really long time. (The bulb fits up in that middle frosted glass part so it's a soft light.)
Aren't they pretty?! (And seriously, how pretty is the whole kitchen, am I right?) I can't wait to show you the full reveal!
For all of your lighting needs, be sure to visit LampsPlus online and on social media:
Facebook  |  Pinterest  |  Twitter  |  Instagram
MORE OF OUR KITCHEN MAKEOVER: