I recently shared my meal planning tips with readers of My Favorite Finds, and today, I want to share it all with you!  (In case you missed it!)  To check out how I keep our family stocked on healthy snacks
and
 make lunch-making easier, check out
THIS POST
.  For some dinner planning ideas, read on…
Am I the only person who would rather do laundry all day than plan meals and go to the grocery store?  Seriously…bane of my existence.  But, they are necessary evils, so I have done my best to find simple and efficient ways to accomplish these tasks.
I think most moms struggle with planning dinners for their families that are not only healthy, but alleviate spending hours in the kitchen.  I'm with you, promise.  I finally sat down and made a very do-able and yummy 8-week meal plan that I recently shared with my Facebook fans, plus a shopping list. Click the button below if you'd like a copy: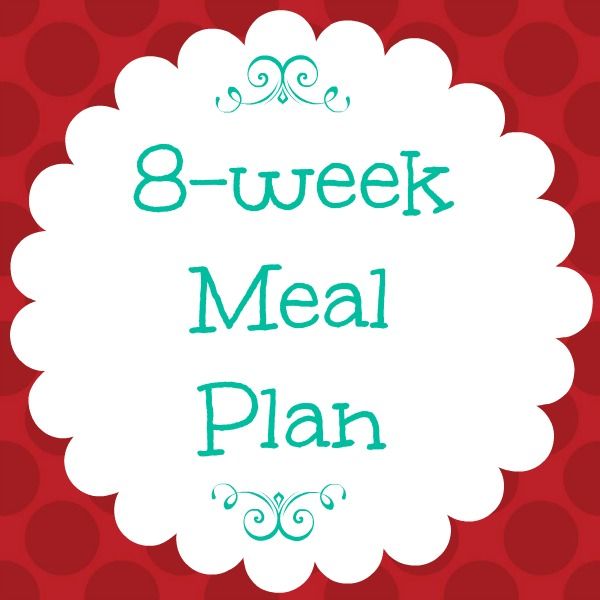 When working on your own meal plan, here are a few things to consider:
Your family schedule

:  My daughter has lacrosse practice once a week, I have ladies Bible study once a week, and there are always those random things that pop up that pull us away from home.  Plan ahead to avoid grabbing fast food.

Your budget

: Meal planning saves money – period.  Keep your budget in check by planning your meals around what you know to be affordable.  Buy in bulk when possible on items that can be frozen or stored for long periods of time.  Or, shop from the grocery store sales papers and use coupons.

Your time

:  If you only have 30 minutes each night to prep meals, take that into consideration when planning your meals.  Don't pick recipes that require a lot of fancy ingredients or long prep work.  Meal planning doesn't have to be gourmet.
One monthly big shop at Sam's Club to purchase meats, frozen items, and other non-perishables for the next 4 weeks of dinners.  The only meats I don't buy ahead of time are seafood and rotisserie chicken.
One weekly shop at the grocery store to buy produce and other items.
Separate the meat into Ziploc bags and label each bag according to the name of the dinner it will be used for.
Lay out one week's worth of meats on a cookie sheet and put in fridge to be used that week.
Bag, label and freeze the remaining meats for the following 3 weeks meals.
*
Quick Tip
:  Be sure to read the recipe for each meal at least one day ahead of cooking.  If you need to do any prep work – for example, boiling the chicken for poppyseed chicken – you can do this while you are cooking the current night's meal to make things easier on yourself the following night.
Pop over to
THIS POST
 to see how I simplify lunches and snacks, too!
What works in your house?  Any tips to add?  Leave a comment below!