It's Easter weekend, which means you're either planning to cook a lot of food this weekend, or just do a lot of eating. The eating part makes me happy  🙂 But if you're cooking a lot for Easter Sunday, you don't want to spend the rest of the week in the kitchen, too. This Quick & Easy Meal Plan (Easter edition) will help you feed your family all week long and make a delicious Easter meal with plenty of leftovers!
Each quick & easy meal plan will consist of 4 dinner ideas, 1 dessert, and I may occasionally throw in a cocktail or something special if there's a holiday coming up.
Here's the thing about the recipes I choose for my family: I like easy. And by easy I mean as few ingredients as possible. So when I say these recipes are quick & easy, I truly mean it. I want to get in and out of the kitchen and back to enjoying time with my family.
TO SEE ALL MEAL PLANS CLICK HERE.
QUICK & EASY MEAL PLAN #2
Since this weekend is Easter, let's kick off this week's meal plan with an Easter menu.
EASTER DINNER: CROCK POT MAPLE BROWN SUGAR HAM
EASTER SIDE DISH: No-Fail Butter & Garlic Green Beans
EASTER DESSERT: Easter Bunny Cheesecake Stuffed Strawberries
EASTER BRUNCH COCKTAIL: Berry Champagne Punch
---
Alright, now for the rest of the week…
DINNER #1: Sloppy Grilled Cheese Sandwiches
Ok seriously? How have I never thought to combine sloppy joe's with grilled cheese? Genius! (And yummy!)
DINNER #2: Chicken Pot Pie Casserole
I seriously LOVE chicken pot pie, but I never make it from scratch because it always seems so complicated. This casserole version seems easy enough that even I can make it! (Makes great leftovers for lunch, too!)
DINNER #3: One Pan Healthy Italian Sausage & Veggies
My friend Chelsea makes everything look good. 🙂 I chose this recipe because getting my husband to eat vegetables is like getting a toddler to eat broccoli. But if you put sausage with them, he's more likely to chow down!
BREAKFAST: Blueberry & Cream Cheese French Toast Casserole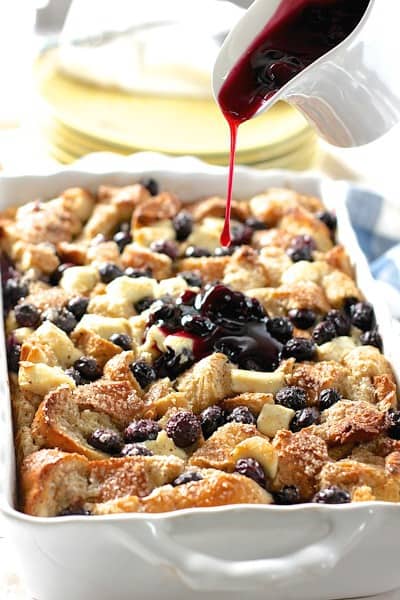 Scrumptious. That's what this is. You're welcome.
QUICK & EASY MEAL PLAN #2 SHOPPING LIST
Click the image below to download your printable shopping list for this week's meal plan. **NOTE** This shopping list does not include the ingredients for the berry champagne punch.